Hello everyone!  My names Timothy O'Briant and I'm about to graduate from ITT-Tech at which point I'll be thrown into the real world and expected to make money.  It all sounds good I know but I say screw it, I want to make COMICS!  So that's exactly what I'm going to do, money or not, I'm going to focus the lion share of my time into developing my pencils, inks, coloring and lettering skills.  It's going to be a long process but luckily it's also going to be fun and exciting and best of all I'm going to share my experiences with everyone who's interested.  So pull up a chair and add this page to your favorites because everyday I'll be posting what I've been working on, my experiences, my struggles and best of all some free comics!  And hopefully we can all learn something in the process!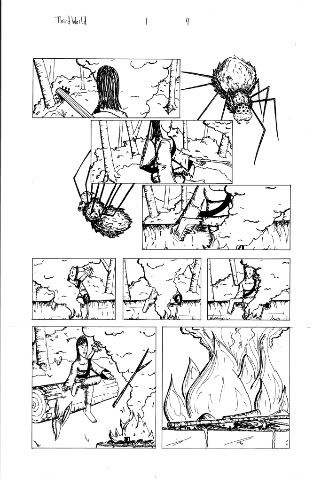 Here's an ink I did a couple days ago.  Inked over pencils with Micron pens on 11*17 comic boards.  

Tip of the day - To make art you need tools!  If you don't have an art shop close by you might want to check out bluelinepro.com.  I'm sure there are other places online but that's were I go!